AmpLIFEi Experiences Page Six

Testimonies are not intended to diagnose, treat, cure or prevent any disease.
AmpLIFEi is not responsible for any of these testimonies.
These testimonies are not the opinion of AmpLIFEi, but peoples personal experiences.
---
Got my coffee around March 9th 🔥 In that time I incorporated triad in once the back order issues got resolved around the 3rd-4th week of March!

I am down 17 pounds as well as many inches gone! The products truly work and have helped many of my personal friends 🙏 I make sure and drink 1/2 my body weight daily in ounces of water!

I don't clean eat by any means and the products help me maintain portion control!
So many things have changed with me from my mood, energy and just so many other things!

These shorts above were so tight before I started the triad bundle! I am forever grateful I was introduced to the products! I also after 28 years and this is just a bonus completely give up diet soda and was drinking 4-10 cans a day all from these amazing products 🤯 I now only drink water 💦 Thanks to Robert Oblon for these amazing products and company ❤️🙏🙌🏻❤️ - James P.
---
Sugar Levels Down Blood Pressure Under Control
I've been doing the system for 2 months. I wasn't in a good place when I started. Lots of Health issues: really high BP, really high sugar- diagnosed Diabetes type 2, high Cholesterol, bad Lipid levels, issues with my kidneys, pancreas and liver, high anxiety, depression, high stress. I felt bad!! I just wasn't myself. I'm not a go to the Dr. person (which I don't recommend).

So the sad part is I had no idea all that was wrong with me. I knew my weight went up from 252 in May. I was struggling everyday. I was sedentary and never felt like doing anything.
I knew I had problems and needed help.

I started the Triad with big hopes. I was tired of feeling bad and often wondered if this was just my life now. I'm not a Spring chicken so to speak lol so I was attributing some of it to age.
I wished I could lose weight but it wasn't going to happen. I've been an emotional eater for years!! No matter how many tears I cried, or how many times I prayed at night asking for strength and claiming "tomorrow is a new day, a new day to try again", I just didn't have it in me.

This system is helping to literally save my life. My Dr. was shocked at how bad all those numbers were and I hadn't winded up in the hospital or even worse. I know God is giving me a chance at life because He's not done with me.

Finding these supplements has been a true Blessing!💞

Here's what benefits I've personally experienced:
💚 Weight Loss and Inches
💙 Appetite Suppression
💚 Sugar is under control
💙 Blood Pressure is good
💚 No bedtime Acid Reflux
💙 Regularity
💚 Better Mood
💙 Anxiety is better
💚 No depression
💙 Stress levels way down despite stressors still there
💚 I FEEL better & FEEL like doing things
💙 I'm not tired all the time I'm so excited!! I'm getting life back. I've learned there's no reason to be bound with the chains of illness and disease. There are ways to heal and restore our bodies. The only thing holding us back is ourselves! *For full disclosure, I was prescribed medication a month ago to help with all those issues. However after suffering with side effects I took myself off of them and have been solely relying on the Triad, my efforts and the good Lord.* - Gena T.
---
Slow progress is still progress!! These pics are about 2 months apart. 💕♥️

I started using the entire Triad system around mid-February, maybe even the third week of February after loving the hapicaps so much!!

I'm using BiomeIX twice a day, my hapitides at least once daily, and either a hapicap or a cup of coffee in the morning about 30 min after my BiomeIX! It helps curb my appetite, I don't crave soda anymore, but crave my water 💦♥️.

And the little bit of weight loss I have experienced plus the products have increased my energy levels to where I'm starting to become more active 💕♥️.

Oh.....and my sleep that used to be horrible....I can lay down and go to sleep with no issues anymore!!

Triad has changed my life.....I cannot express enough gratitude for what it's doing in my body
💕♥️ - April E.
---
One week ago I was tired, achy, severe back pain etc. I found out about gut health, addressed that and now:
I lost almost 3" off my waist- in one week!
Have little to no back pain
Clearer skin
Have my energy back

Pretty crazy a week ago I was thinking I was gonna have to get a desk job cause I felt so bad. Then a friend showed me what to take and it saved my butt!
Pics are 1 week apart. - Jason N.
---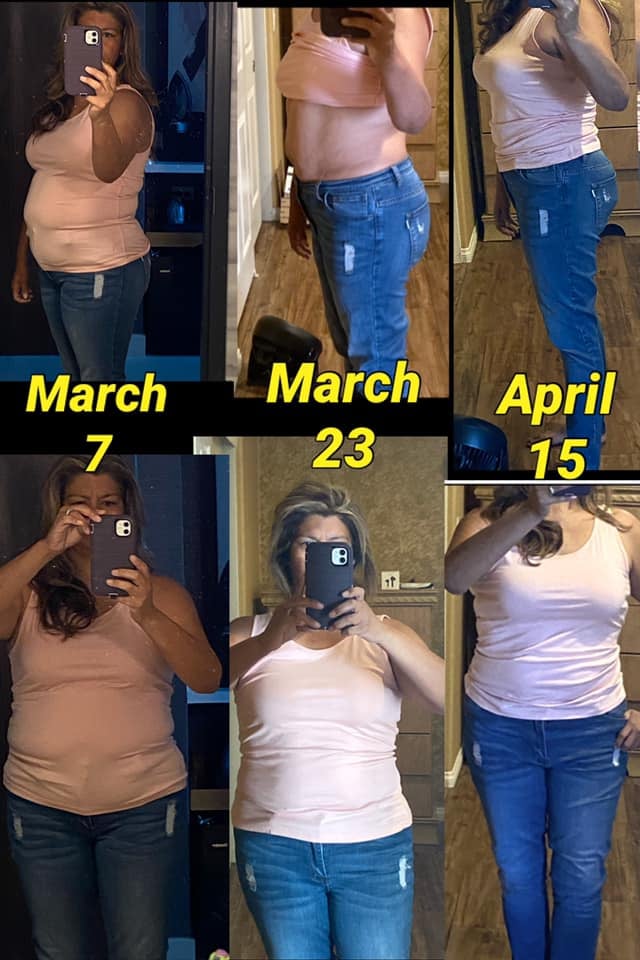 All I've done was FIX MY LEAKY GUT!

Who knew that 95% of us suffer from it & it is the ROOT CAUSE OF MOST ALL "SYMPTOMS"
MELTING INCHES is just ONE OF MANY BENEFITS

I was hesitant in posting cuz not sure if YOU can SEE the difference in my clothes getting looser but boy can I feel it! NO SPECIAL DIET & STILL NO EXERCISE, although I think I'll start making more of an actual effort.

I know I still have a long way to go but this has been amazing plus...
No more HEARTBURN after I eat.
Loads of ENERGY to keep up with my grandson.
No more aches & pains when I wake up.
Mood & Mental Clarity is better.
Sweet Tooth is almost non-existent.
it's WILLPOWER w/o even trying.

***I do the Triad with HapiCAPS but I also alternate some days between the Caps & the Coffee.
I typically do my 2 BIOMES & sometimes 2 TIDES ( gotta get better at remembering, lol I do need to step up my WATER intake as well ) BUT THIS TRIAD HAS DEFINITELY MADE IT EASIER TO MAKE BETTER CHOICES!
- Sam Annette L
---
Ok so here are my updated pics of my TRIAD journey!

Super vulnerable as I never thought I would feel powerful enough to show all my insecurities to the world!

What I realize now is in the first pic I was depressed and sick and tired actually absolutely exhausted and in so much autoimmune pain! I could barely move and I hated looking in the mirror! It's a beautiful thing to get your confidence back!

Here is what I do DAILY!
I take one BiomeIx in the morning with my HapiTides and another HapiTides and Biome IX before I go to bed!

I drink my AMPED coffee everyday and take a HapiCap every other day!

I have way less cravings as by being on these amazing products I am eating so much more healthier as I crave salads instead of sugar now which is crazy cause I have a major sweet tooth!

I also eat a Keto lifestyle and that works perfectly with our products but my husband eats like a two year old and is still shrinking faster than me as he and my whole family are on them too haha!! I drink a gallon of water a day as Dr. Napute says we need to flush those toxins out!

Give it Atleast 90 days and be patient with your body! No two bodies are alike, stay consistent and most importantly stay positive!! Happiness heals! - Shawna F
---
Testimonies are not intended to diagnose, treat, cure or prevent any disease.
AmpLIFEi is not responsible for any of these testimonies.
These testimonies are not the opinion of AmpLIFEi, but peoples personal experiences.